Crossroads: Carnegie Museum of Art's Collection, 1945 to Now
Hedda Sterne & Moira Dryer
June 22, 2018 - November 21, 2021
Crossroads mines our collection for stories that resonate today by highlighting the critical role of the artist in everyday life.
This complete reinstallation of our postwar and contemporary art galleries places the work of artists at the intersection of history and society. We're also bringing dozens of rarely and never-before-shown works out of storage. Curator Eric Crosby finds pockets of depth, diversity, and eccentricities, organizing the galleries in a series of "chapters."
Crossroads is organized by Eric Crosby, The Richard Armstrong Curator of Modern and Contemporary Art.
MOIRA DRYER
Back in Business
February 4 - April 19, 2020
Featuring approximately 30 of her richly textured and color saturated paintings and sculptures, this is the first comprehensive museum exhibition to consider the early work of Moira Dryer (c. 1957, Toronto, Canada; d. 1992, New York City). From her beginnings in the early 1980s until her death, Dryer pursued a line of work in dialogue with modernist painting and abstraction while in consideration of more contemporary themes. Before devoting herself full-time to painting, Dryer worked for years as a set designer for the avant-garde theater company Mabou Mines, an experience that influenced her painting and the way she spoke about her work. This exhibition considers Dryer's development as her work progresses from recognizable theater references such as curtains and spatial representations to abstract portraits that begin to move toward sculpture. Dryer infused her works with a level of pathos that allowed her to play with stillness and animation, reference and abstraction, and real and represented space. The exhibition also includes a collection of notes, drawings, and photographs from the artist's archive that provide a historical context firmly placing Dryer at the center of the conversation regarding painting in the 1980s and 90s.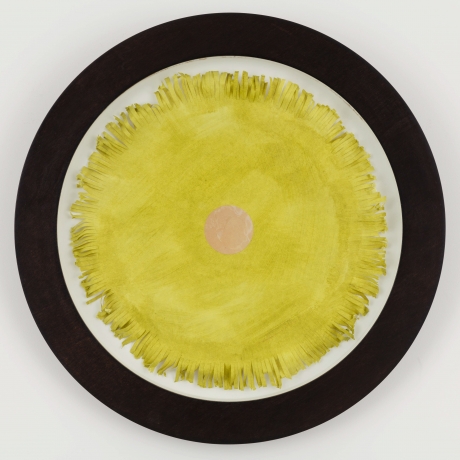 Moira Dryer: Yours for the Asking
Greater Reston Arts Center
January 18– April 18, 2020
GRACE will present a selection of twelve works by artist Moira Dryer (b. 1957, Toronto, Ontario; d. 1992, New York, New York), primarily known for her large abstract paintings on wood panel. This exhibition will provide an intimate look at the artist's practice through works given as gifts to friends and family, many never previously shown publicly. For Jimmy incorporates a seed spreader found on Jimmy's family farm; the green field of paint is punctuated by Dryer's signature blotches referencing the seeding of the land and the artist's growing cancer. Dryer's final work still in the studio upon her death will also be included in the exhibition alongside ephemera from her studio. The title is taken from the artist's archive in recognition of her generosity, confidence, and singular voice.